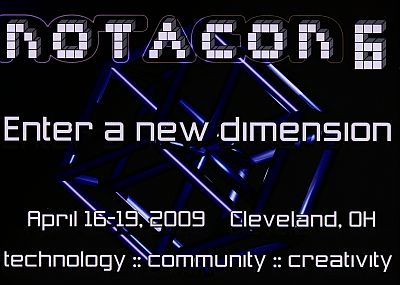 I think that it's quite overdue to wrap up the bundle of awesome that was Notacon 6.
The whole con was quite awesome. There were brilliant talks and not-so-brilliant talks. There were friends, drinks, food and the camaraderie of "fitting in" for a bit of a change. Long conversations that lasted well into the night… hackerspaces, amateur radio, games, art, commerce… It's still all reverberating in my head.
I gave away more than 600 stickers – hope you got a few of them.
I thoroughly enjoyed all of the talks that I was able to be present for and there are quite a few that I look forward to catching on-line later. In case mine was one that you wanted to watch, feel free to have a look at the video below, and as always, comments are welcome.

BlackHat to a BlackSuit – Econopocalypse Now – Notacon 6 from James Arlen on Vimeo.
If you happen to have pics or video, please let me know – I saw a few camera focus lights out there in the crowd…