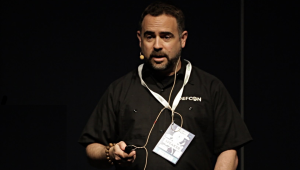 ***Page to be updated July 30***
I have speaking engagements around the world regularly. As a result, I have decided to post this list as I get asked a fair bit about what my speaking topics and schedule are overall. I have a series of talks that I can deliver for your conference. As well, if you are looking for a keynote I can create a bespoke presentation.
If you are interested in having me speak at your event please use the contact us page and it'll get routed to me.
Thanks!
Here is a sample list of my speaking engagements that are coming up.
| Conference | Date | Location |
| --- | --- | --- |
| (ISC)2 Security Congress APAC | 7/4/17 | Hong Kong |
| BSides Tel Aviv (Keynote) | 6/28/17 | Tel Aviv, Israel |
| BSides Athens (Keynote) | 6/24/17 | Athens, Greece |
| Risksec | 6/13/17 | Toronto, Ontario |
| Infosecurity Europe | 6/6/17 | London, UK |
| Securityfest | 6/1/17 | Goteborg, Sweden |
| Nolacon (Keynote) | 5/20/17 | New Orleans, Louisiana |
| RMISC | 5/9/17 | Denver, Colorado |
| ATLSECCON | 4/28/17 | Halifax, Nova Scotia |
| NAB Show | 4/26/17 | Las Vegas, Nevada |
| QuBit Cyber Security Conference | 4/4/17 | Prague, Czech Republic |
| Codemotion Rome 2017 | 3/22/17 | Rome, Italy |
| nullcon | 3/3/17 | Goa, India |
| HIMSS17 | 2/21/17 | Orlando, Florida |
| SANS Cloud Security Summit 2017 | 1/17/17 | San Francisco, California |
| MISTI Threat Intelligence | 11/6/16 | New Orleans, Louisiana |
| IRISSCON 2016 | 11/24/16 | Dublin, Ireland |
| Countermeasure 2016 (Keynote) missed my connection :-/ | 11/18/16 | Ottawa, Ontario |
| RSA Abu Dhabi | 11/15/16 | Abu Dhabi, UAE |
| Oredev | 11/8/16 | Malmo, Sweden |
| Tactical Edge | 10/24/16 | Bogota, Colombia |
| Akamai Edge 2016 | 10/20/16 | San Francisco, California |
| AppSecUSA 2016 | 10/13/16 | Washington, DC |
| IP Expo Nordic (Keynote) | 9/28/16 | Stockholm, Sweden |
| State of Things | 9/22/16 | Cambridge, Massachusetts |
| (ISC)2 Congress | 9/12/16 | Orlando, Florida |
| HTCIA | 8/30/16 | Las Vegas, Nevada |
| EnergySec | 8/23/16 | Anaheim, California |
| FIRST 2016 | 6/16/16 | Seoul, Republic of Korea |
| CircleCityCon (Keynote) | 6/10/16 | Indianapolis, Indiana |
| Infosecurity Europe | 6/7/16 | London, UK |
| Securityfest | 6/1/16 | Goteborg, Sweden |
| NolaCon | 5/22/16 | New Orleans, Louisiana |
| HackMiami | 5/15/16 | Miami, Florida |
| RMISC 2016 | 5/11/16 | Denver, Colorado |
| Interop | 5/2/16 | Las Vegas, Nevada |
| NAB Show | 4/20/16 | Las Vegas, Nevada |
| ATLSECCON | 4/8/16 | Halifax, Nova Scotia |
| Bsides Ljubljana | 3/9/16 | Ljubljana, Slovenia |
| CSA CCE Summit | 3/8/16 | Ljubljana, Slovenia |
| Deepsec | 11/1/15 | Vienna, Austria |
| RSA Abu Dhabi | 11/1/15 | Abu Dhabi, UAE |
| Bsides Cape Breton | 9/18/15 | Sydney, Nova Scotia |
| 44CON | 9/10/15 | London, UK |
| Security Congress APAC | 7/28/15 | Manila, Philippines |
| RSA Singapore | 7/24/15 | Singapore |
| CircleCityCon | 6/13/15 | Indianapolis, Indiana |
| Northsec | 5/21/15 | Montreal, Quebec |
| Interop: Dark Reading | 4/29/15 | Las Vegas, Nevada |
| ATLSECCON | 4/16/15 | Halifax, Nova Scotia |
| IANS Toronto | 3/17/15 | Toronto, Ontario |
| Sector | 10/21/14 | Toronto, Ontario |
| (ISC)2 Security Congress | 9/30/14 | Atlanta, Georgia |
| HTCIA | 9/19/14 | Halifax, Nova Scotia |
| BSides Cape Breton (Keynote) | 9/5/14 | Sydney, Nova Scotia |
| Black Hat USA | 8/5/14 | Las Vegas, Nevada |
| RSA Singapore | 7/23/14 | Singapore |
| SOURCE Dublin | 5/21/14 | Dublin, Ireland |