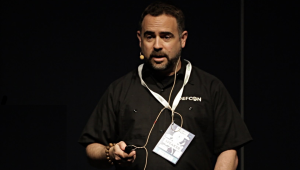 I have speaking engagements around the world regularly. As a result, I have decided to post this list as I get asked a fair bit about what my speaking topics and schedule are overall. I have a series of talks that I can deliver for your conference. As well, if you are looking for a keynote I can create a bespoke presentation.
If you are interested in having me speak at your event please use the contact us page and it'll get routed to me.
Thanks!
Here is a sample list of my speaking engagements that are coming up.
Past Events › Dave's Speaking Schedule
Events List Navigation
February 2017

"The 2017 HIMSS Annual Conference & Exhibition, February 19–23, 2017 in Orlando, brings together 40,000+ health IT professionals, clinicians, executives and vendors from around the world. Exceptional education, world-class speakers, cutting-edge health IT products and powerful networking are hallmarks of this industry-leading conference."
Find out more »
March 2017
April 2017
+ Export Events